Every business must have ever held a meeting, at least once. A meeting is an essential thing to do to gather everyone's ideas. Other than that, you can also review your team performance and business strategy through a meeting. And one of the most important meetings that you must hold is a board meeting. This meeting requires you to invite and involve the directors as well as the other executives. Furthermore, it would help if you impressed them with your professional board meeting presentation containing critical information.
But, before holding it, there are several things you have to know about this meeting. What is a board meeting? Why does it become essential? How to increase your executives' trust from a presentation? Well, you will find the answer below. So, tighten your belt and get ready to dive into it!
What is a Board Meeting?
A board meeting is a critical aspect of the corporate world. Generally, the executives conduct this meeting annually to discuss the strategic matters of a company. The aims of this meeting are to define the current state of the affairs, the possible projects, and the plans they have to take in the future. Other than that, they usually discuss corporate policies and issues. At the end of the day, they can evaluate the company's performance within the period. That's why it is essential to decide the company's future.
The Topics in the Board Meeting You May Discuss
The meeting is not just an unnecessary thing to do in your spare time. In contrast, there are critical things that you must discuss there. Therefore, before a meeting, it is important to prepare the topics and schedule. You must want your meeting always on topic and upbeat. So, below is a list of topics that you can bring to your board meeting.
1. Company Performance Review
This is the first reason why the board meeting is conducted. It aims to review how well your company performs in a year. Besides, the executive boards also can evaluate whether your key metrics have moved to the right decision or not. It can be your chance to talk about how many the targets you have accomplished. Look at your sales, marketing/web traffic, and market share. They can be your first reference to show your accomplishments to the boards.
2. Issues and Opportunities
Besides talking about your achievements, you can also talk about the issues you face and how you manage them. It can be a great insight for your people to be more aware about the issues in the forthcoming. Otherwise, you can also talk about the opportunities you may catch and apply in the future as well.
3. Future Strategy
After analyzing the issues and opportunities, it's time for you to create the strategy. You can present the ideas, the capability, and any changes you can make. Ideally, they must bring positive growth to your company. Other than that, it can be your chance to make sure that everyone is on the same boat. Therefore, you can avoid miscommunication and conflicts.
4. Key Performance Indicators
After sailing on the same boat, you and all the attendees can form key performance indicators (KPIs). KPIs are the key points that assign you to the strategies you have planned. It helps you to measure your performance. It also gives exact numbers with the detailed actions that your team should achieve. At the end of the day, it helps you to interpret how your company is performing.
How to Increase Your Executives' Trust?
Trust is a key to deciding whether people want to continue working with you or not. It also decides whether your investors will keep supporting you financially or maybe stop it. Besides your business growth and ideas, it also depends on how you deliver them. That's why the appearance of your presentation also plays an important role here. The more appropriate it, the more professional image you will earn. In short, your presentation is the first chance to leave a positive impression to your audience.
2022 Most Recommended Board Meeting Presentation Templates to Impress Your Executives
August has come, and it means that you only have several months left to prepare the board meeting. While preparing for it, you can make a shortcut to deliver your presentation impressively. Here are several captivating presentation templates you can work with. Check the list below to help you arrange your board meeting presentation.
Sweet Berry Annual Report Presentation Template
Open your audiences' eyes with this fresh presentation template by Peterdraw Studio. This template has a vibrant color combination that can boost up your audience's mood. Additionally, the neat and symmetrical layout can make your image look even more professional. You can quickly impress your executives in the board meeting with this template.
Calm Grey Minimalist and Professional Board Meeting Presentation Template
Are you a big fan of a minimalist concept? This template is meant to be yours then. It has an alluring visual design that steals the spotlight. Other than that, it has a neat and clean layout that pleases the eyes. In addition, this template provides graphics to help your audiences get what you say. Leave good impression on your audiences with this fascinating template!
Aroma – The Warm Brown Simple Board Meeting Presentation Template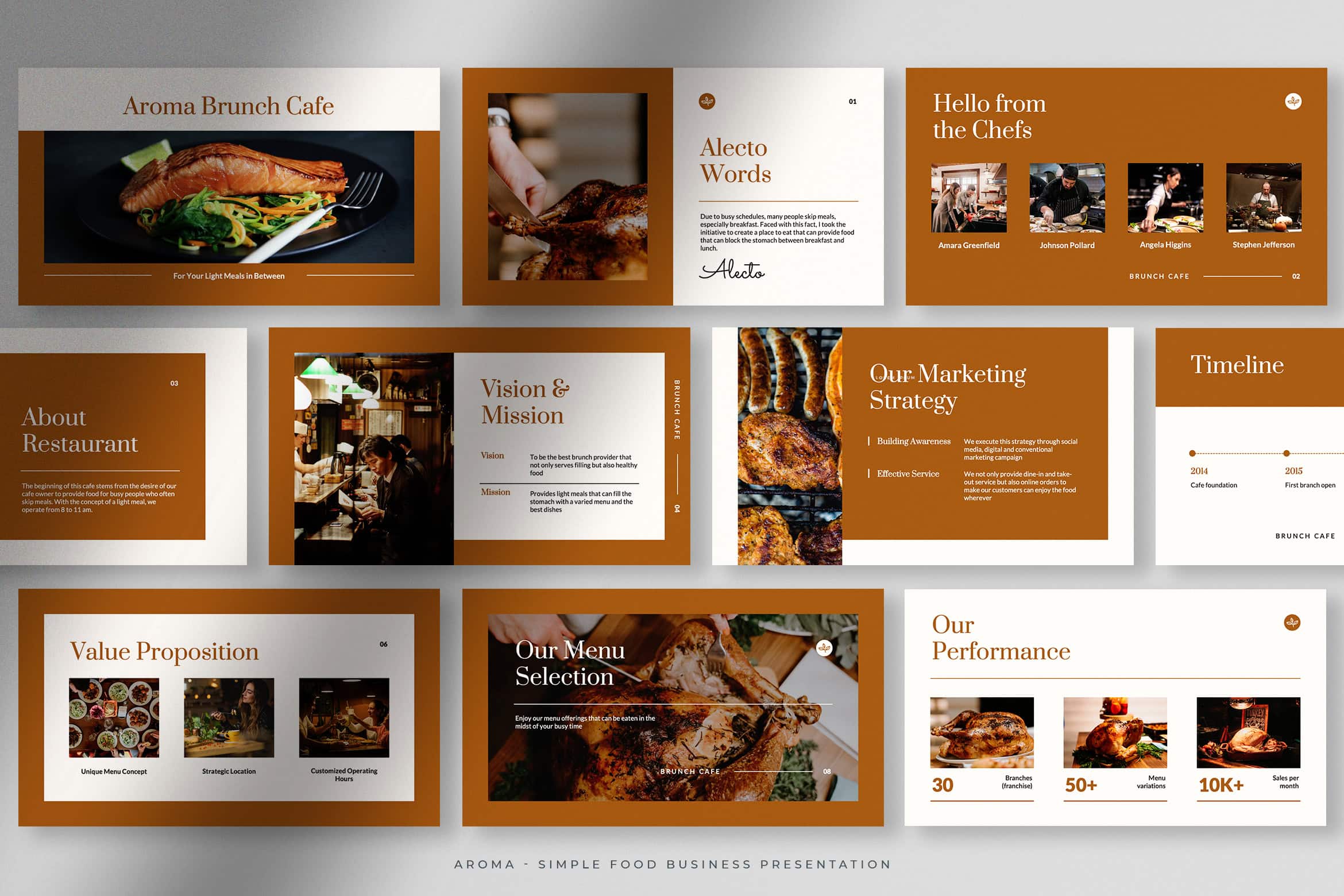 For you who run culinary business, Aroma is perfect for you. This template provides you with high quality images creating credible image for your business. Other than that, its color combination can please your eyes. You can simply attract your audience's attention in the with this beautiful template.
Black and White Modern Business Strategy Presentation Template
Does your business value futuristic concept? This template is completely perfect for you. With its modern style, it can mesmerize your audience at the first glance. The clean and neat layout make it even more alluring. Besides, it also provides you with various graphics. Grab your audience's attention with this template!
Overall Summary
In a nutshell, a board meeting plays a vital role in deciding the future of a company. As a business owner, you must work extra hard to ensure your board meeting runs perfectly. Professional presentation in the board meeting can increase your executives' trust. Even though you have a lot of things to do to prepare it, you can instantly use templates that we recommend. So you can save your time to do other essential things for your board meeting.
Discover various presentation templates in our website. Find the one that resonates with your business. Kindly hit our contact for detailed information and other questions! Have a great day!