It's not a secret that for centuries, food has been one of the most important things in humans' life. It is categorized as a primary need that all people need to fill. That's why the culinary businesses have a high demand in the market. And it also becomes the reason why they always find the way to survive. However, there are still many challenges and opportunities that you, as one of the players, need to know, including the use of business presentation. Read the following article to avoid your miss!
Culinary Business Today
A tight competition is a common thing in the business world. Similar to other businesses, it happens in culinary business as well. Many players in this industry also compete to attract the customers by presenting high-quality products and services.
For example, everyone faces a crisis during the outbreak of the Pandemic Covid-19 for the past 2 years. This pandemic requires people to stay at home to stop the outbreak. However, for culinary business players, it can become a great opportunity to generate more customers. With the improvement of its services, ordering food online becomes a hot trend nowadays.
It's Time to Introduce Your Culinary Business
There is no business that doesn't need investors. It also works to your culinary businesses. Customers play a role as a financial support from the front door. Meanwhile, the investors are the financial support system which comes from the back door. Therefore, introducing your company appropriately is the key to raise the number of your audiences.
However, your struggle doesn't stop right there. There are still many plenty of things you need to think about. One of them is how you attract your audience through a business presentation. A good business idea without good presentation will lose the audiences. That's why you need an appealing presentation template to keep the focus of your audience. The more attractive your presentation appearance, the higher number of attention you will get. So, get ready to prepare your presentation.
Save Your Presentation with Canva
Creating an attractive presentation can be a challenge for some people. First, they have to acquire the designing tools. Second, they have to spend super long time to make their presentation look better. Besides, they also need to do other things to ensure their businesses run well. However, you can make a shortcut. You don't have to do those complicated things. You are still able to have an attractive presentation with Canva templates.
Why Canva? For you who ever heard about this app, you must have known how awesome this application is. This apps provide you with numerous eye-pleasant templates. The tools are completely easy to use, even for the beginners. Besides, there are a couple of reasons why you have to use this easy-peasy application.
This app saves your valuable time
You have no limit to create your own design
It helps you to find your niche market
It's an all-rounded graphic design apps that you need
Top 6 Culinary Canva Presentation Templates You Must Try
There are a bunch of Canva presentation templates that you can apply for your culinary business. You can look for the templates you need in the search bar. But, if you want to see some recommendations, here is the list that we have compile. Check them out!
1. White Fast Food Restaurant Presentation Template
For you who run a burger or fast food restaurant, you can use this attractive template. It adopts modern and elegant concept that can introduce your business effectively. Besides, this template has 10 special pages with high-quality images that you can edit easily. Now you can have a charming presentation with this template.
2. White Bold Weekly Update Presentation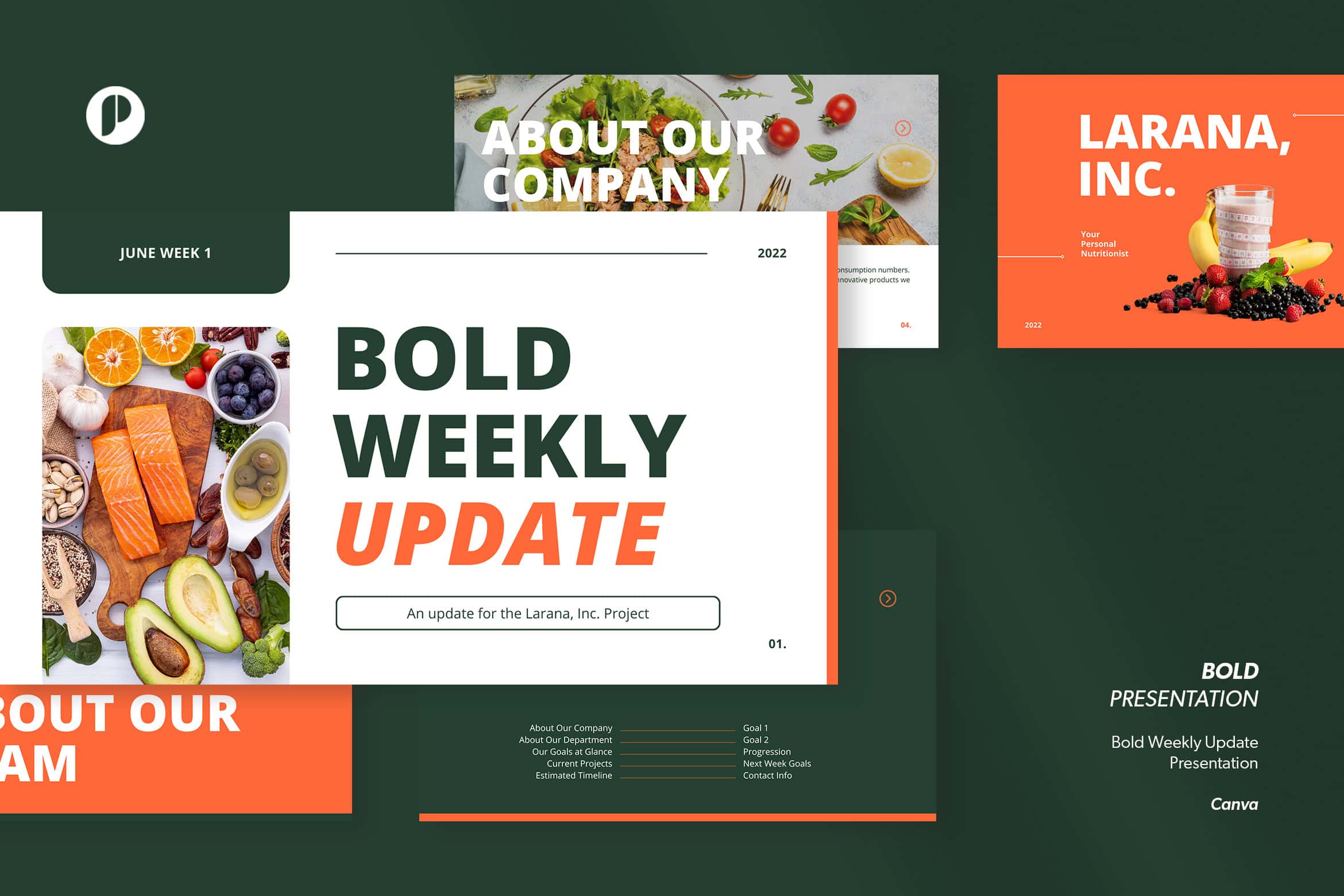 Are you running a healthy food restaurant? Great, this stunning template is perfect for you then. It has a bold and white space style that highlights the values of your business. Its neat and clean layout makes this template even more captivating. Besides, this presentation also provides high quality images with vibrant color creating an eye-pleasing template. Mesmerize your audience with this bold template!
3. Olive Green Modern Food Restaurant Presentation
A family restaurant always serves joy and warmth in the middle of family gathering. If your restaurant also holds this value, this presentation suits you then. This presentation has an alluring design with the modern concept adopted here. Its color theme makes this template feel warm yet still professional. Furthermore, this template also uses high-quality images making it even more appealing. Tease your audience with this beautiful template!
4. Green Orange Simple Modern Korean Halal Food Presentation
For the past decades, Korean culture has been a hot trend in the world. This phenomenon makes all Korean things become popular as well. If you run a Korean restaurant, this presentation template can be the best choice for you. It has an elegant yet still playful that can reach a wide audiences. You don't have to worry about your presentation appearance, let this template work for you.
5. Emerald Minimalist Green Coffee Shop Presentation Template
Are you looking for a minimalist presentation for your coffee shop? This template can be your best escapee then. It has a clean and neat layout that makes it understandable. Moreover, the combination of emerald green and nude creates a gentle harmonization.
6. Beige Minimalist Bakery Food Restaurant Presentation
Everyone loves bread, and that's what makes culinary businesses in bakery field never die. If you are one of those players, this presentation can be your companion to present your business. This template adopts a minimalist concept that makes this design look so attractive. Besides, its clean and neat layout can effortlessly please everyone's eyes. You can captivate your audiences with this beautiful template!
Article's Summary
It's not a secret anymore that culinary business has a great potential to grow in the future. Moreover with the innovations of the products and services, people are always looking forward for what's next. You can take this chance to promote your business even better with an exceptional presentation. If you are running out of time, you can use our recommendation.
Discover the other fascinating presentation template that suits your needs. Contact us for further information related to the products. Have a great day!