Fashion always transforms, and so does the industry. This business presents a rapid change from time to time. That's why it shows the growth on a positive curve, even though the Pandemic Covid-19 affected the world's economy. You, as a business owner, can do many things to leverage your business. One of them is generating many investors to support your business. And professional fashion business presentation is the key to attracting their attention.
Why Does Your Clothing Line Needs Business Presentation?
Like any other business, the players in the fashion industry, including clothing lines, also need funding to run their business. That's why you will need a professional presentation to deliver your business ideas appropriately. It conveys critical ideas and influences the outcome. Besides, it enables you to communicate with others. You can use this document to motivate your audience, educate your team, and sell your products. In short, this documentation is so helpful for your clothing line business.
The Importance of Visuals in Your Fashion Business Presentation
Having uniqueness and brilliant ideas is a good start since it can be the core of your business. However, sometimes it's not enough. There are several factors that you have to consider. And one of them is how you will present your ideas. Hence, visuals are critical because an attractive presentation can increase engagement and opportunity.
With an attractive presentation design, a well-crafted one can enhance your credible image. It's like the first gate that shows the complete image of your business. As a result, it can influence your audience in deciding, whether they are interested or not. Consequently, it can quickly provide a high-result opportunity to close the deal.
Kinds of Fashion Business Presentation You Can Deal with
Every business presentation has its purpose of walking through. Focus on your purposes to decide which business presentation you want to work with. Chill, you don't have to be overthinking. Because here is a list of presentations you can imply for your fashion brand.
1. Company Profile
Generally, a company profile is a summary of your business. It contains critical information related to the core of your business, such as vision and mission, the company's goals, and objectives. Besides, it also provides how you start your business and the achievements you have accomplished. Furthermore, you can also present your products and a slight portfolio here.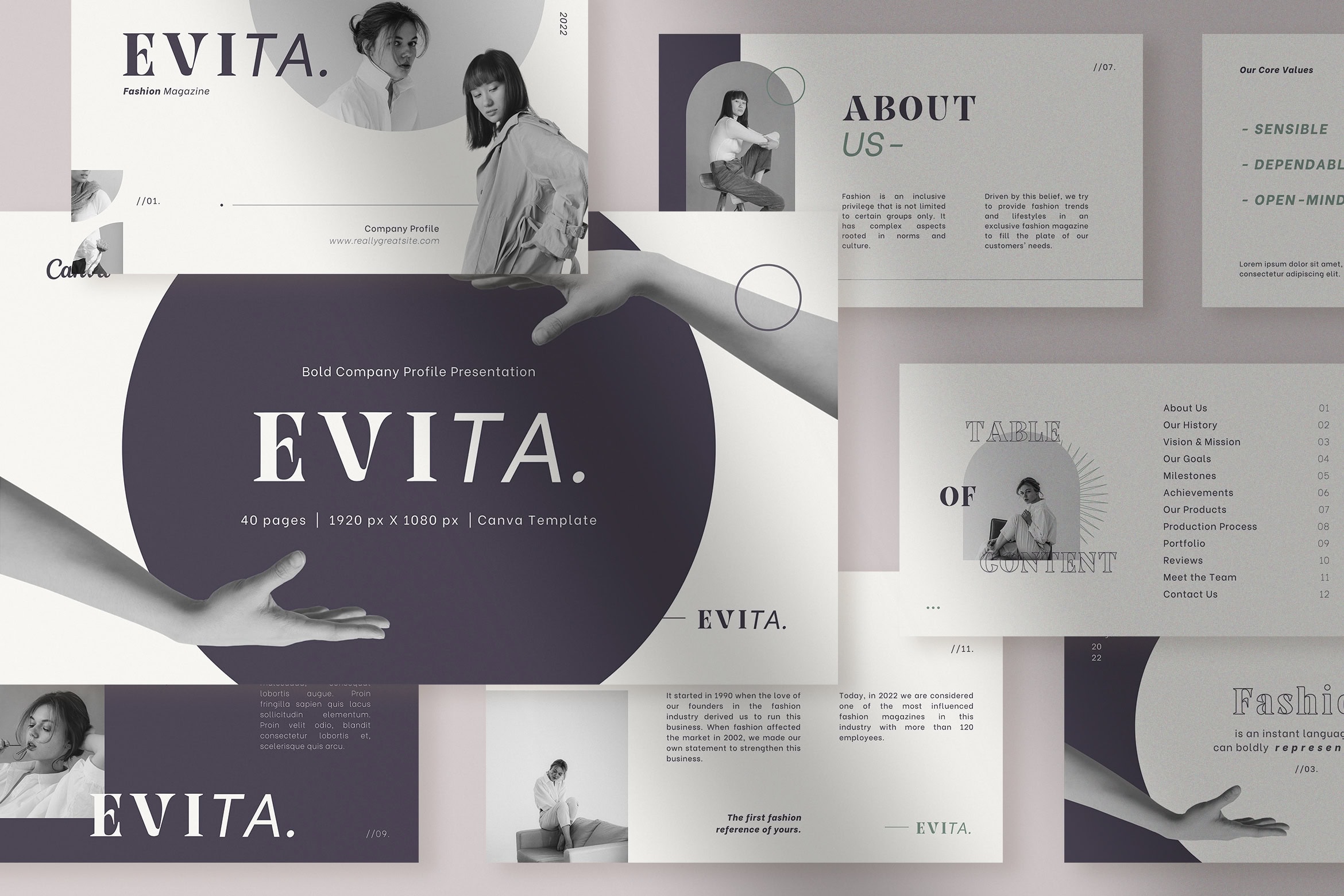 If your clothing line brand adopts an elegant and minimalist concept, Evita by Peterdraw Studio is aimed at your business. It has a firm look that can increase your credible image. Furthermore, its neat and clean layout makes this template look even more attractive. Grab your audience's attention with this alluring fashion presentation template.
2. Fashion Portfolio
The other critical business document that you need is a portfolio. As a fashion brand owner, you must need a portfolio to maintain your collections. It also can be a great help to explain all of your projects to your audiences. Most importantly, this document enables you to show your improvement skills. In short, you can easily showcase your skills only in one shot.
Are you planning to release your streetwear collection? Perfect, Qilan can be your best companion to present your special collection. This template has a unique color combination that pleases everyone's eyes. It also adopts minimalist and bold concept that suits your fashion brand. Show your incredible works with this fantastic presentation template.
3. Brand Guidelines Fashion Presentation
What comes to your mind when you hear the brand guideline? Yups, it is a business document that you can use to record your brand identity rules. In addition, it defines the standards telling how your brand must be delivered. But, what is the urgency of using it?
In nature, every business needs a strong branding to connect with its customers. And delivering your brand identity consistently is one of the keys to build strong brand awareness, and so does your fashion brand.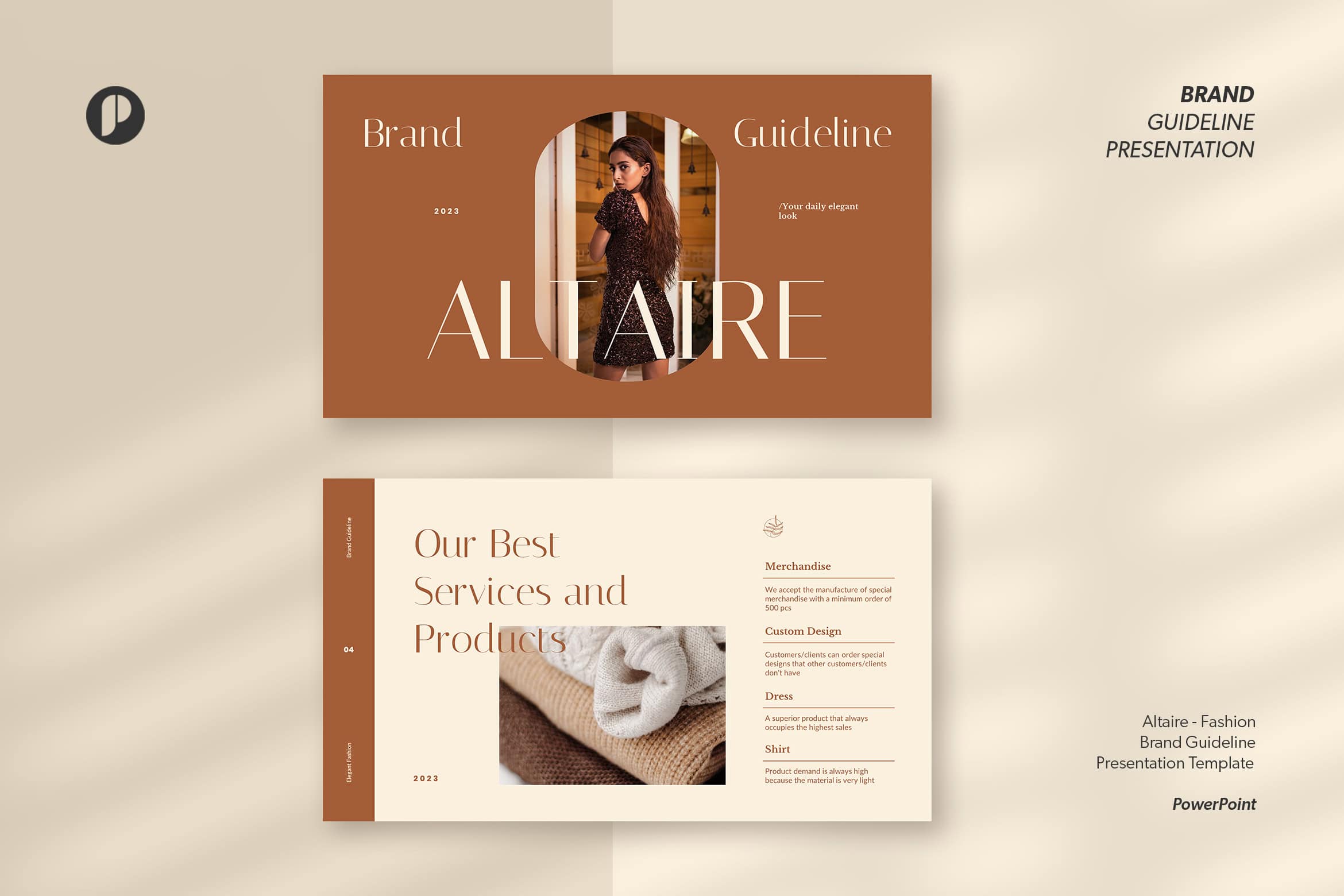 Another stylish template is presented for you. If your business values the elegance, Altaire by Peterdraw Studio can resonate with your brand voice. It has an alluring color combination that please the eyes of your audience. Additionally this template also has all brand guideline elements that you can adjust with your needs.
4. Media Kit Presentation
After having a brand guideline, you will need a media kit presentation for your fashion brand. Well, it is a set of your promotional materials across media. It includes all vital information related to your business and how you will promote your brand. In short, it becomes the key to strengthening your brand awareness.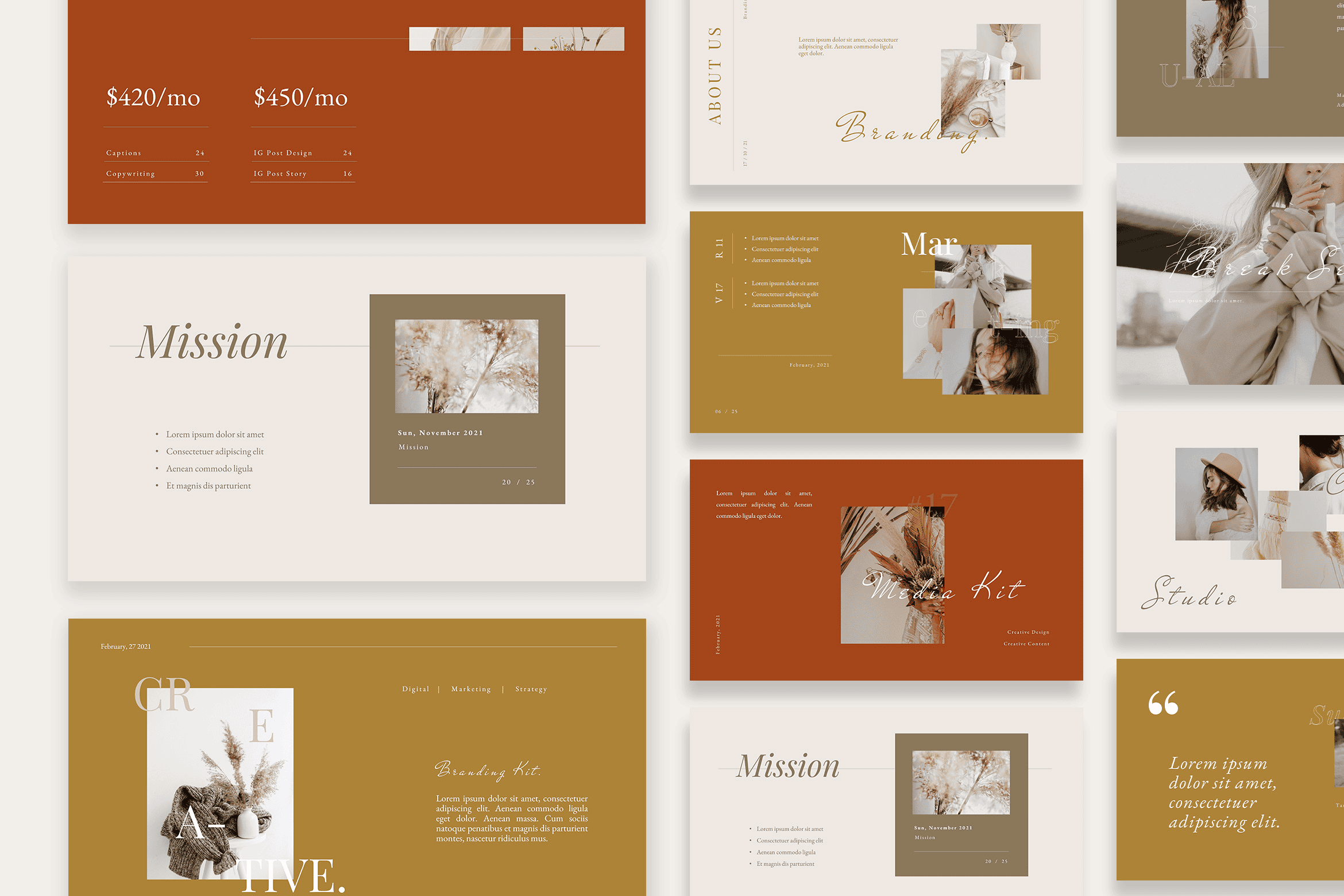 Are you a big fan of vintage style? Or maybe your fashion brand adopts vintage concept? So, Beauty by Peterdraw Studio will be the perfect choice for you. This template has a unique design that highlights your vintage image. It can effortlessly bring old yet modern nuance all at once. As a result, it can captivate your audience without exception.
5. Pitch Deck Fashion Presentation
In the final list, you also can work with a pitch deck presentation. Generally, it is a visual presentation containing critical information, from your business plan, and fundraising needs, until your financial goals. This presentation lets you propose your business ideas to your clients or investors. As a note, your pitch deck presentation must be concise and straight to the point. Therefore, it is important to skip the nonsense things and left the vital information one.
If the unique and bold concept is the core of your fashion brand, Alpha is specially made for you. This template adopts minimalism with a bit of a touch urban style. Besides, it also uses colorful yet eye-pleasing making it even more attractive. You can quickly grab your audience attention with this unique presentation template.
Let's Work with Your Fashion Presentation
Finally, it's your time to create your fashion presentation. Don't hesitate to try since you already know the concept and also the presentation types. All you need to do is pick a business presentation that closely meets your purpose. In addition, you can also explore our website to discover numerous fascinating presentation templates for your business.