Recently, a newsroom has been the best gateway to catch the updates. People love to dive into the internet to access the latest information. That's why, this section becomes a hot trend for the past few years. As one of the business players, you can use social media, like Instagram, to promote your newsroom. And using the best newsroom Instagram template can be your best companion to save the time. But, before going there, you probably need to know plenty things about it first. Keep reading the complete article to find out!
Newsroom at a Glance
Basically, an online newsroom is a place where many digital articles are provided in one online press room. This room doesn't aim to journalist forum only, but also any business field does play. You can use this room to create community and drive your website traffic. As a result, it can be the best place for your audiences to see your companies' updates as well as the latest news which is relevant to your business sphere. In short, it can help you draw media attention with the lowest cost you can afford.
Use Instagram to Earn More Website Clicks
For a long time, Instagram is well-known as the best marketing tool to boost promotion, including your newsroom. It also works efficiently to pitch some clicks to visit your website. In addition, it opens a chance to explore your website from the click as well.
Aside from the benefits you will get, you might face plenty of challenges while promoting your newsroom on Instagram since you are not the single player here. When you have provided high-quality content, the visual designs will always matter. It can take a job to win the duel among the tight competition. It can help you absorb all the attention since the first scroll.
Topics That You Can Choose For Your Corporate Newsroom
As we have mentioned above, you can provide news that relates to your business values. You may already have specific news topics you want to bring about. However, if you still have no idea, you can try several topics below to get started.
1. Children & Education
Education is one of the most common topics you can discuss. The scope of this topic is quite wide. You can talk about the current issue in the education world, the problems that many educators and the learners may face. In turn, you may talk about the latest research that requires students and teacher or many more. This topic suits for you who run teaching and learning business like online learning or other courses.
2. Health & Medical World
The other topic you can bring to your newsroom is health. For the past two years, it becomes a hot trend since the outbreak of Pandemic Covid-19. Many people are more aware of their health. If you run business that allied to a pharmacy or health care services, this topic can drive a high traffic visit for your website. You can talk about the update of Covid-19, the tips to maintain your readers' health, or the alternative medicines they can try. Besides, you can also talk about the latest research in the medical world.
3. Environment
For you who are in environment organization or running eco-friendly businesses, this topic is perfect for you. Ever since the awareness of taking care of the environment rises, people start giving their attention to this area. The scope of this topic is pretty wide like the other topics. You can bring the most common environment issues like the global climate change or the update of our planet. For example, it can be the condition on land, air, or even the marine.
4. Innovation & Technology
The last but not the least, the topic that you can drag in your newsroom is innovation and technology. Recently, people are going crazy about the cryptocurrency as well as the technology. If you run business in this industry, this topic is completely perfect to bring in your corporate newsroom. You can talk about the latest technology invasion, gadgets, metaverse, robots and many more.
5. Economy and Business World
For decades, the world's economy and business have a dynamic change from time to time. Besides technology, this topic also have a constant invention. Many businesses arise and inspire people to make money. The scope of this topic is extremely wide that can be applied in any kind of business.
6. Lifestyle
This topic is one of the most popular themes that you can pick. Lifestyle has a quite wide scope that you can elaborate. You can talk about culture, daily life hacks, tips and tricks, beauty, fashion, food, and travel. In short, the content is light yet full of information that everyone will love. If you run a lifestyle services, this topic is completely perfect to depicts your brand value.
Most Recommended Newsroom Instagram Templates for Your Needs
After deciding the topics you want to bring, it's time to promote your newsroom in social media. If you don't have time to make an impressive designs, why don't you try our recommendations instead? Check them out!
Turquoise Modern Photocentric Newsroom Instagram Template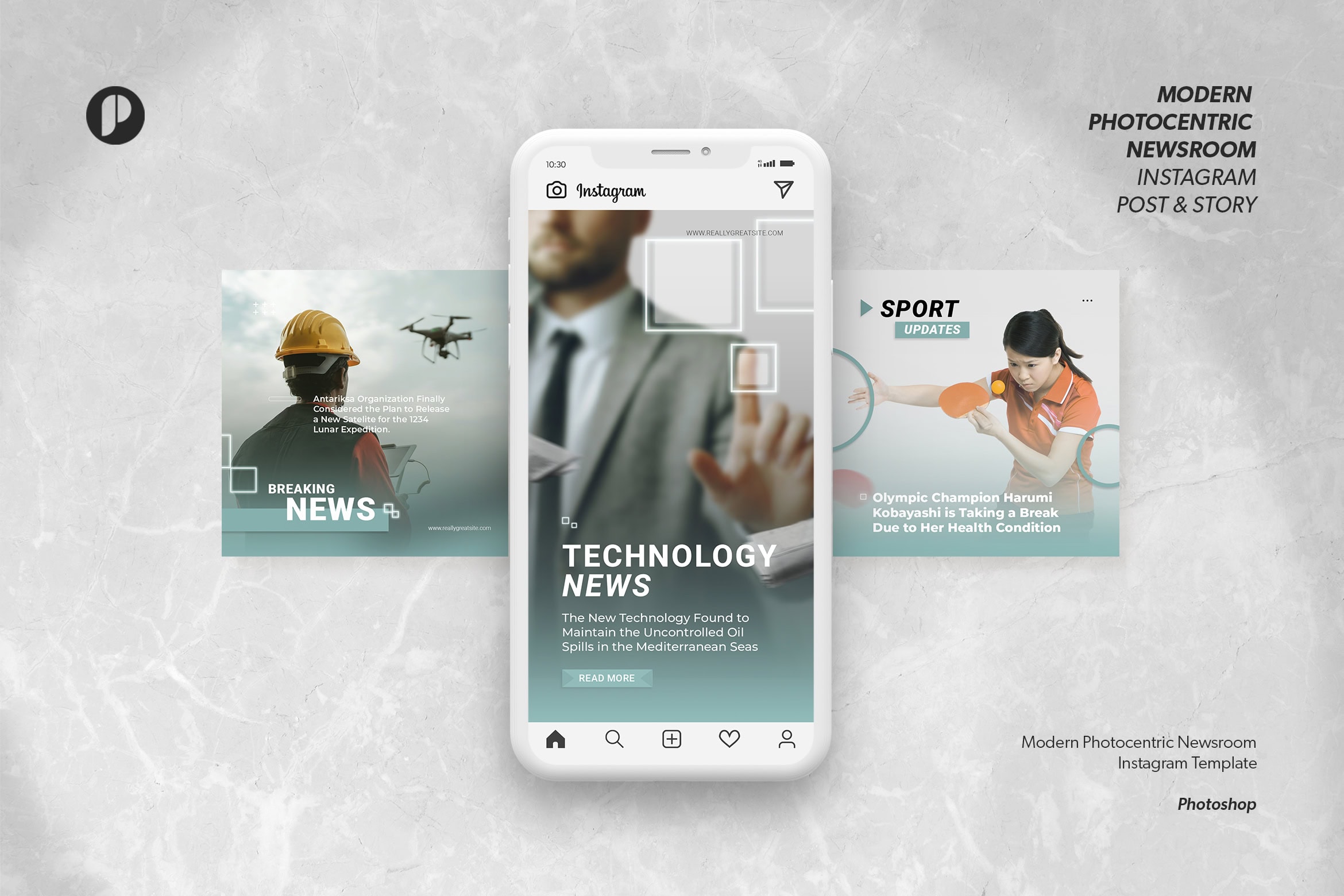 This one is the first Instagram template that can be your best companion. This template brings you a modern concept that you can use to serve the latest updates of your newsroom. With its cold and calming color tone, it can mesmerize your audience's eyes at the first glance. Furthermore, it is perfect for any newsroom, newspaper, magazine, or even a news website.
Green Bright Modern Geometric Newsroom Instagram Template
Bright color tone never failed to boost up everyone's mood. And this is what this template is going to do with its cheerful design. The unique combination of green, purple, yellow, and white colors can easily catch your audience's attention. Besides, this template is supported by basic geometric design along with a modern touch. You don't have to work harder to make your feeds stand out. Just let this cheerful template do its job!
Yellow Formal Professional Newsroom Instagram Post Template
This one is another Instagram template set you can try for your newsroom. With its simple layout, this template can create a professional image for your newsroom. Along with that, it provides numerous high-quality images that make this template even more attractive. Furthermore, it can increase audience's engagement that can effortlessly boost your website traffic.
Latte Green Bold and Professional Newsroom Instagram Template
Are you looking for a minimalist and aesthetic template ? This one is specially made for you then. This template has a clean and simple layout yet still eye-catchy. Other than that, it has a calm color combination that instantly absorb your audience's attention in one scroll only. Furthermore, you can put many detail information there since it's spacious. And most importantly, this template is free. Therefore, you can directly click the button below to get this set.
In Short
Instagram can be the best social media to promote your newsroom that directly boost your website traffic. Consequently, you need to update your newsroom regularly with the most appropriate topic that depicts your brand image. Furthermore, using a ready-to-apply template can be your best gateway. Don't hesitate to use one of our recommendation to make your feeds look even more attractive.
Need more Instagram template recommendation? Explore our collection to find the ones that fill your needs. Have a good day and see ya!