Going online for shopping is always fun for most people. Besides saving much time, the online shops provide numerous options that their customers can choose. As one of the players, you can also promote your brand through the digital platform. At this point, your marketing strategy always matters. That's why you need to set an effective strategy in the form of a digital marketing presentation. But, before going there, there are a couple of things you need to know about this presentation. So, tighten your belt and find the answer!
Get to Know What the Digital Marketing Presentation is
At a glance, it is a presentation that contains a set of marketing strategy across the digital platform. The scope of this marketing is quite wide. It breaks down the strategy from SEO writing until the social media management. Other than that, it provides crucial information related to your brand as well as your strategy.
You can use this presentation to communicate the detail plans you want to take with your team. It is a perfect presentation to discuss your strategy as well as to evaluate it. Besides, you can avoid the miscommunication and optimize your performance in one shot. At this stage, you must need a well-organized presentation to help you present your plans.
Ways to Nail Your Digital Marketing Presentation
Creating an effecting digital marketing presentation is not a simple job that you can do in the one night. There are a plenty of things you have to know before creating your presentation. If you still have no idea about what you have to put there, you can have a look at the list below.
1. Mention Your Marketing Objectives
The objectives of your marketing are the ultimate key to define your strategy. It determines the detail plan you should take later on. Thus, the first thing first you have to do is identifying the gap between the strength and the lack that you need to cover. You can write the things you want to achieve, whether it is for building your brand awareness, promoting your marketing campaign, or boosting your sales.
2. Understand Your Target Audience
Have you ever heard something like 'the right man in the right place?' Well, this law also works when we talk about the market segmentation and target audience. Every market has different characteristic, needs, and social culture. For example, you can't give an exact treatment when you sell fashion items in the USA and in the Middle East since they have a huge gap in social culture. Therefore, understanding your target audience is important to define how you are supposed to promote your brand.
3. Present Your Digital Marketing Strategy
Basically, this part is the core and the heart of your presentation since it contains many critical aspects that define your steps. Your strategy must include your value proposition and brand positioning. Those two are the elements that mostly define what image you want to crave in your customer's mind.
Along with that, you need to also decide the appropriate marketing strategies and channels to help you achieve your goals. For instance, you may use SEO to increase your website traffics. Or maybe you can apply social media marketing to build your brand awareness. In turn, if you want to be more engaged constantly with your audience, you may use email marketing.
4. Explain Your Timeline Briefly
One of the most working parameters to measure your strategies is how you will execute them within the due date. That's why explaining your timeline is also essential here. Write the most rational marketing timeline in your presentation. Don't forget to mention some details to make sure there's nothing left behind. But remember, keep making it brief and easy to understand.
5. Show Your Budgeting Plan
Similar to the conventional one, digital marketing also needs a clear budgeting plan. At this stage, you need to put the most effective budgeting to optimize your digital promotion. It determines how much money you prepare and in which channel you will allocate it. Without an effective budgeting plan, you may find it difficult to pay back the cost and count the ROI (return on investment). At the end of the day, your promotion will be pointless.
The Most Impressive Digital Marketing Presentation Templates You Can Work With
Having a pleasant presentation is the key to keep your audiences focus on your presentation. The aim is not only to attract their attention, but also to build an effective communication. That's why, it is important to make sure that your digital marketing presentation is well-organized. Moreover, it must be brief, concise, and easy to understand. So, here is a list of the most impressive presentation templates that you can try.
Estika – Creative Digital Campaign Proposal Presentation Template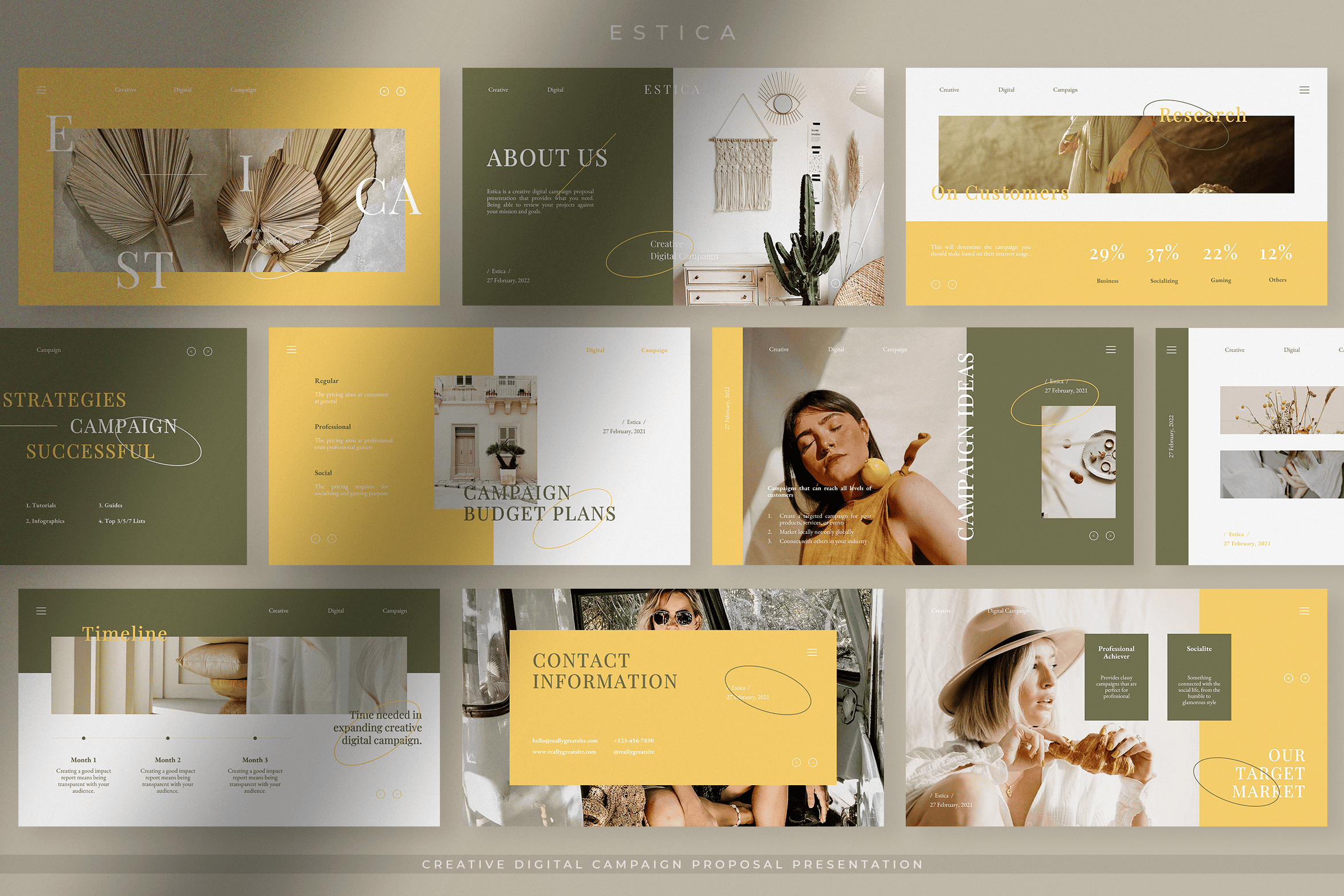 Minimalist and elegant concepts are the best duo that can create an incredible look if you put them together. And that's what you will get from Estika by Peterdraw Studio. This template has a pleasant color combination that can pleases your eyes as well as melts your heart. In Addition, it also provides high-quality images that can support your presentation. Deliver your strategy in an attractive way with this beautiful template!
Vibrant Black Minimalist Digital Agency PowerPoint Template
Are you a big fan of black things? Or maybe you want to look be more professional? Well, this template is perfect for you then. With its minimalist theme, it can effortlessly increase your professional image. Other than that, it has a clean and simple layout that makes this presentation easy to read. Besides, it has some charts and illustrations to make your presentation even more informative. You don't have to work extra hard to mesmerize your audience. Let this template take that difficult job for you!
Cavio – Refined Oil Business Marketing Presentation Template
The last but not the least, here is Cavio by Peterdraw Studio that is designed specially for you. This template has a unique color combination creating a bright yet still professional image for your business. Like other templates, this template also works with a wide white space layout. This style makes it look clean and neat. You can effortlessly win your audience's attention with this modern template.
Zoella – Red Scarf Simple & Modern Presentation Template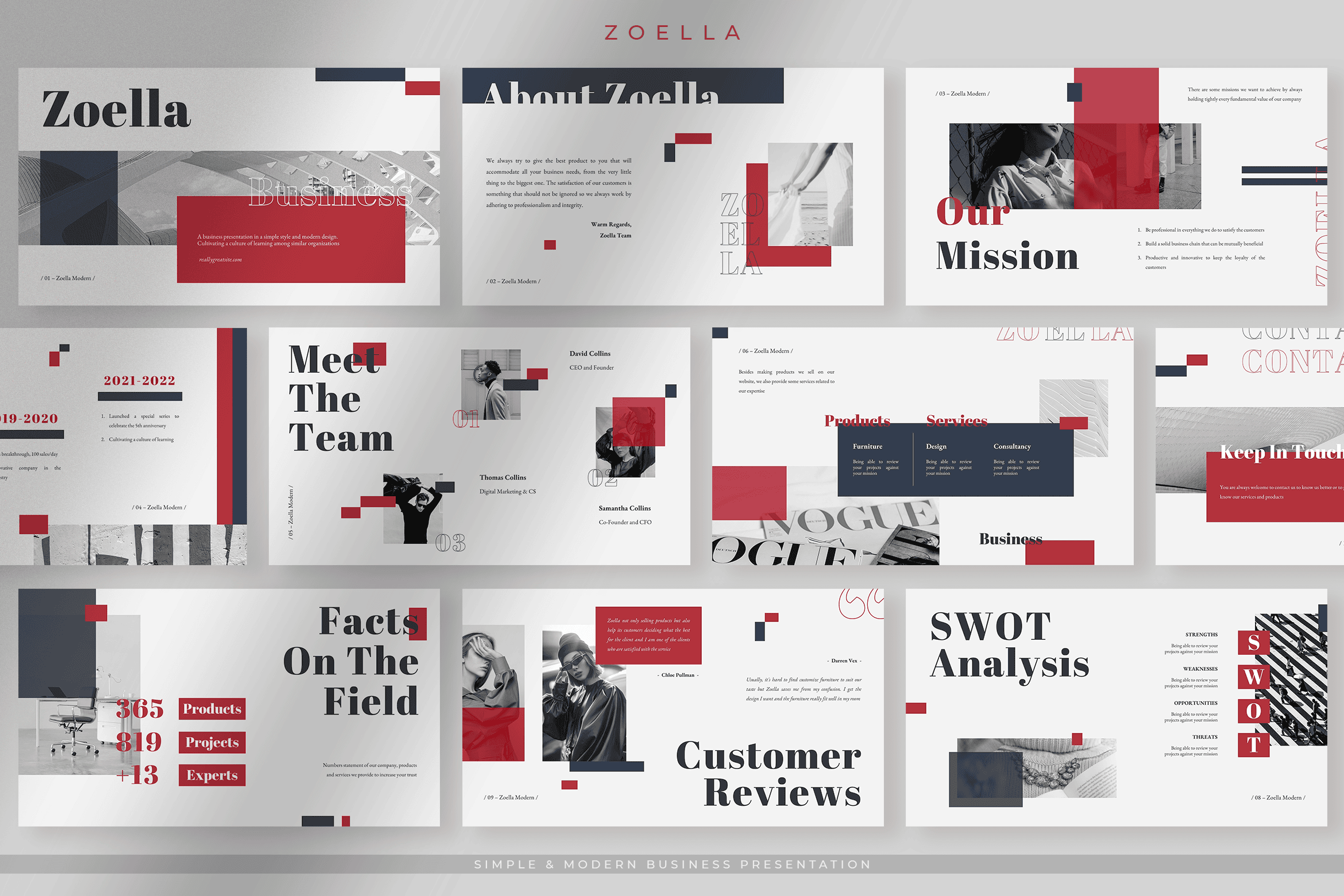 Another minimalist and fascinating template is ready to rock your presentation. Zoella by Peterdraw Studio brings a dynamic and modern vibes that easily can catch your audience's attention. This presentation has a unique color combination that put two different opposite of red and deep blue contrasting with white background. Furthermore, it has wide white space that make this template look so spacious. There's no reason to not use this captivating template.
In Summary
The digital marketing presentation is a tool that you can use to deliver your marketing strategy throughout the digital platform. Your presentation must be brief, concise, and easy to understand. So that you can avoid misconception within your team. With a well-organized presentation, you can communicate your strategy more effective.
Are you looking for the other presentation templates? You come to the right place. Explore our collection to find the best business presentation that meets your needs. Kindly contact us for more information about the products and the sales. Have a great day and see ya!