In the former days, activity planners used to keep personal or business needs belonging only to individual and related people. That's the old story. Today, people gladly share their activity planners on social media like Instagram, especially influencers and business owners. Hunting for an attractive template for their activity planner has become common.
Basically, anyone can make their own planner and share it on Instagram as they wish. However, not everyone can arrange the right planner and then transform it into an understandable and doable planner list. To make it worse, they choose the template that does not fit the activity or image they hold. You must not make the same mistake.
Why You Should Create An Activity Planner
For unorganized people, creating an activity planner is such a hassle, wasting of time, and hard to do. Even some think that it is out of date. Especially if you are not one of those people who reflect on yourself after doing repetitive activities without taking lessons, of course, it's in vain. But, before you complain any further, you have to understand the reason why you should make a daily planner.
Helps with Time Management
Have you ever complained that 24 hours a day is not enough to do everything on your list? It only happens when you are not scheduling your time effectively and just hopping from one activity to the next on and on. A planner will help you plan all your activities, audits and then groups them into priorities. It will not only help you manage all your activity to be more effective and doable but also can spare you some times to spend with your family and friends.
Improve Your Productivity
Productivity applies to your personal and professional life. You can be productive at your job and at the house works by creating the proper planner. The planner will help you stay on track, complete daily tasks, and encourage you to be more effective and efficient. It becomes the way to achieve a balanced life in your career and private life.
Provide Stress Relief
Don't you ever think that what you can put on the planner is the task you have to complete? The purpose of creating a planner is to schedule everything, including your self-care time, with various self-care activities to relieve stress, not exhausting yourself. For short-term stress relief, enjoying your hobby, chatting with friends and family, or treating yourself can be a starter.
Keep Your Records
Another reason you should make a planner is to keep records of your tasks, appointments, and notes. With all the activities you have, there is always a possibility something slipped from your mind, like making a new appointment for your treatment. When you have all your activities on the planner, your previous record can be a reference for the next.
Boost Audience Engagement
Regardless of everything mentioned before, in this digital era, making an activity planner has another important reason, especially when you are an active social media user. An attractive planner you share on social media can help you to boost audience engagement and increase traffic positively. It is also a way to inform your follower regarding any activity or event you participate in or hold so they will feel more involved in your activities.
A good interaction shows that your social media is a reliable and effective medium to promote. Hence, when other parties want to work with you as a partner, collaborator, or endorsement, they will have no hesitation or regret. Besides, this good interaction increases your favourability in your audience's eyes.
How to Make an Attractive and Engaged Activity Planner?
There is no exact formula for creating what best planner as long as you can follow it through. However, when you talk about the planner you will share on social media, you must consider an attractive aspect to attract the audience. What you need is to apply the eye-catching template to it.
Like a planner sheet or book you usually find in a stationery store, you can find those templates online, free or paid. As your consideration, here are some templates you might find attractive enough to apply for your first or next activity planner posts and stories.
Creative Activity Planner Instagram, Bold Template for the Bold You
An activity planner template with bold colors can be a starter to apply on your social media. This Creative Activity Planner Instagram template will be the most suitable pick for you who want to attract people at first glance. The red, green, and mustard colors represent the boldness with rustic touch you want to show the audience.
This template not only provides you with a design for your daily activity, but also you can use it to share your preference on something, events, appointments, activity timetable, and memos. It is a complete package as your social media kit to engage with the audience.
| | |
| --- | --- |
| Created by | : Peterdraw Studio |
| Release Year | : 2021 |
| Format | : PSD, AI |
| Compatible App | : Adobe Photoshop, Adobe Illustrator |
| Price | : $16 |
| Available at | : Peterdraw Studio Website |
Productivity Planner Instagram Canva, To Increase Your Productivity
Motivating yourself and your audience will be more fun when you share the activities using this Productivity Planner Instagram Canva template. This template series will provide you with more than just a planner to fulfill its purpose. It also includes Q&A, goals, priority, preference, plan, quote, and everything you need to be more productive and active.
Its modern yet minimalist design makes it perfect for an influencer or business owner who wants to engage actively with the audience. Once you purchase it, you will get a free lifetime update. So it is worth buying and using for your benefit and heart contained.
| | |
| --- | --- |
| Created by | : Peterdraw |
| Release Year | : 2020 |
| Format | : Canva |
| Compatible App | : Canva |
| Price | : $35 |
| Available at | : Creative Market |
Earthy Minimalist To-Do List Instagram Template
If you want to focus on sharing your to-do list or daily activity, this Earthy Minimalist To-Do List Instagram Template is one of the recommendations. Since it is only focused on that aspect, you can maximize its usefulness to put every activity you do from morning till night. It will help you cover up a whole day's schedule, but strain yourself to post them all at once. You still have to consider the posting timing and not do spamming.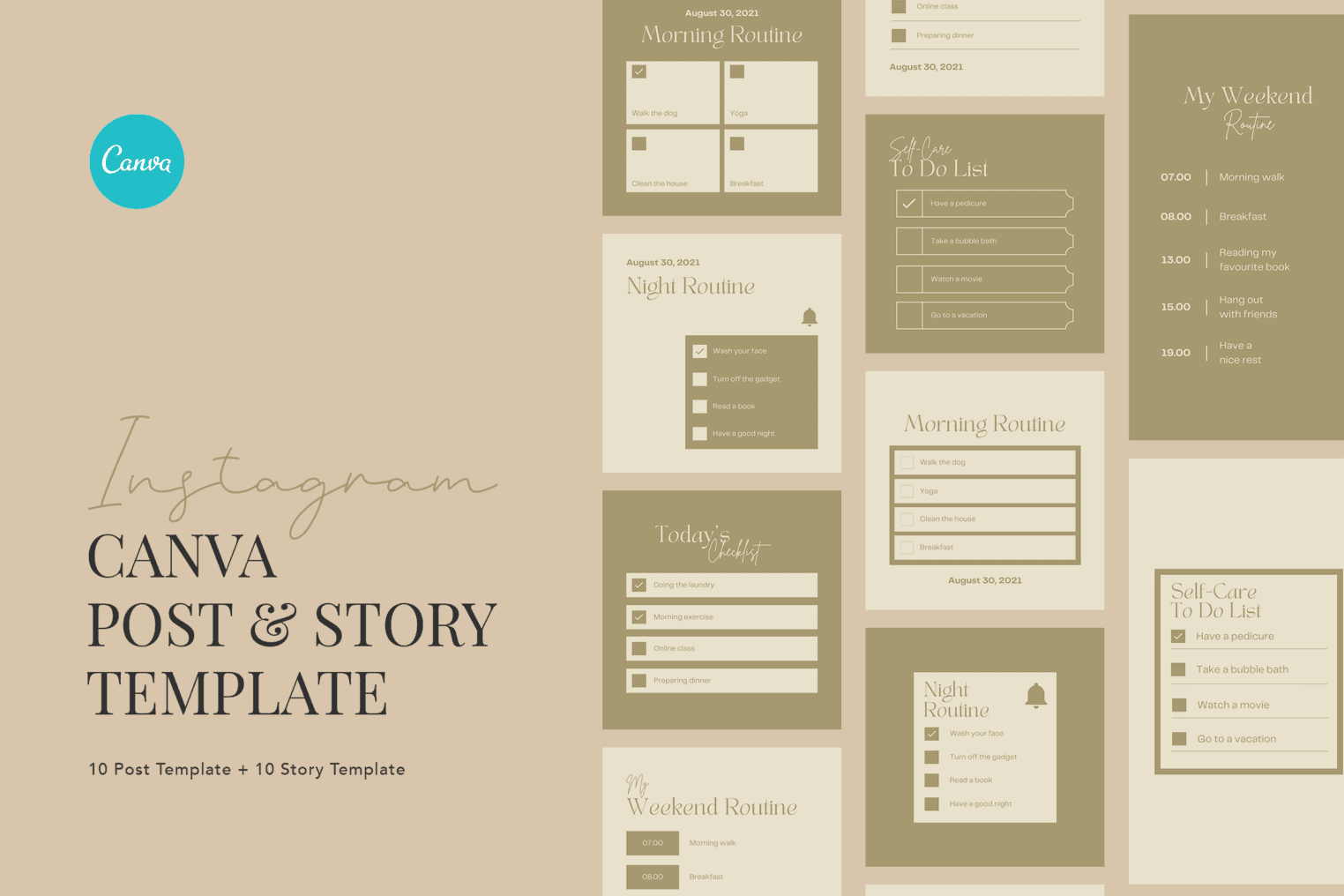 The color palette on this template can tone down your overall social media appearance. It is a good breather and combination to create even better feeds.
| | |
| --- | --- |
| Created by | : Peterdraw Studio |
| Release Year | : 2021 |
| Format | : Canva |
| Compatible App | : Canva |
| Price | : $12 |
| Available at | : Peterdraw Studio Website |
Retro Computer Planner Instagram, the 90s Vibe
Let us head back to the 90s era using this Retro Computer Planner Instagram template. You not only can share your schedule with your audience but also be nostalgic with the 90s vibe brought by it. The old computer design can be your eye-catching element to capture the audience's attention to get more involved and engaged with your activities on social media.
The bright and cheerful color selection can make your social media more playful and have a refreshing retro feel that has been gone for a long, long time. It is perfect for a daily and weekly planner to put your priorities on the list.
| | |
| --- | --- |
| Created by | : Studio Delapan |
| Release Year | : 2021 |
| Format | : Canva |
| Compatible App | : Canva |
| Price | : $35 |
| Available at | : Creative Market |
Sparkling Rainbow Gradient Adorkable To-Do List Instagram Template, Glowing and Sparkling
Gaining attention will be more effective when you apply an unusual template that rarely used in your daily posts. It will attract more audience, especially if you apply this Sparkling Rainbow Gradient Adorkable To-Do List Instagram Template to your posts and stories, . Imagine yourself enter a fantasy world where are the glittering and shimmering bright colors all over the place.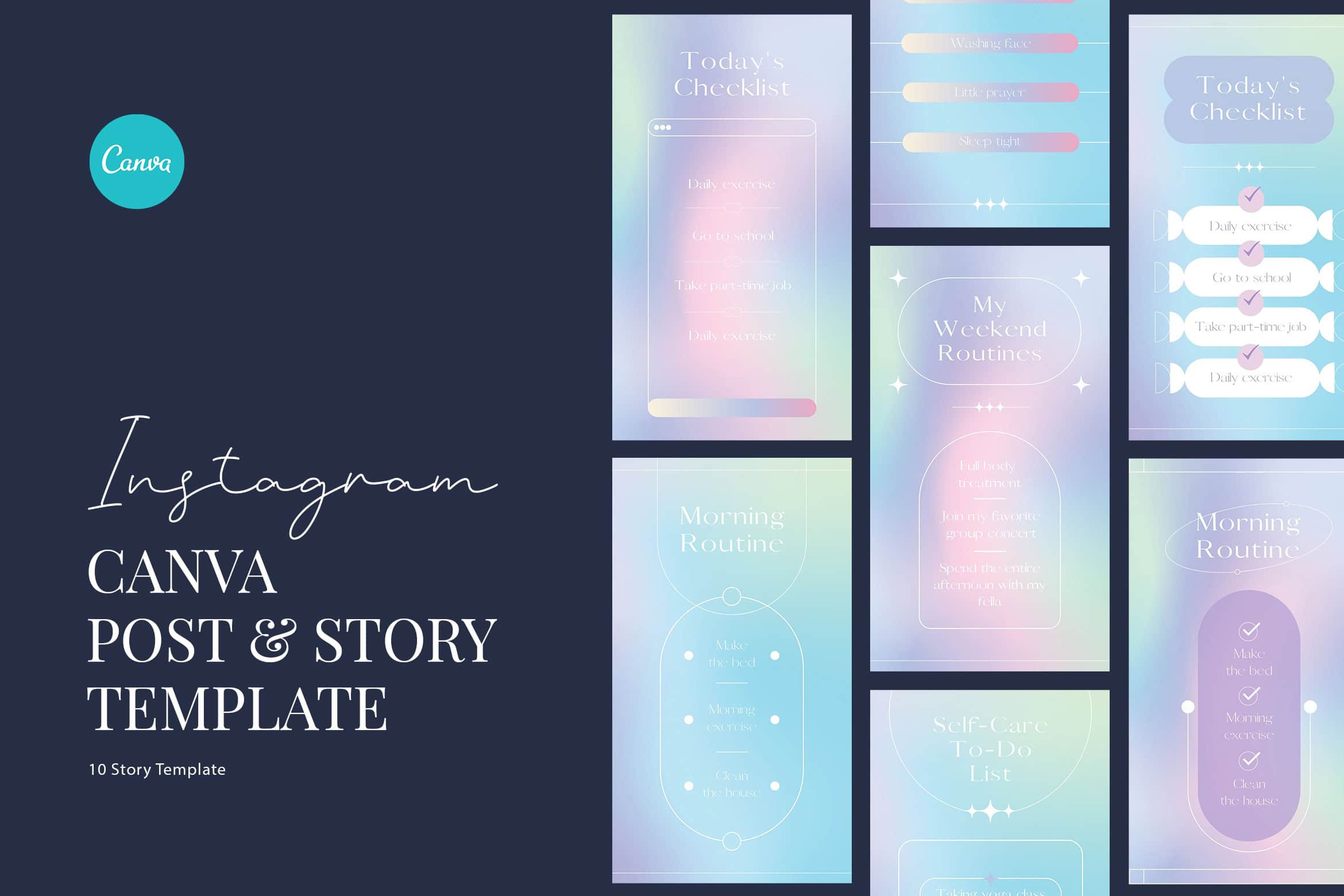 You might think that it looks too flashy, but for people who love sparkling and eye-catching items, this template is worth trying. This template is focused on providing a daily and weekly plan to maintain your schedule and get better audience engagement.
| | |
| --- | --- |
| Created by | : Peterdraw Studio |
| Release Year | : 2021 |
| Format | : Canva |
| Compatible App | : Canva |
| Price | : $12 |
| Available at | : Peterdraw Studio Website |